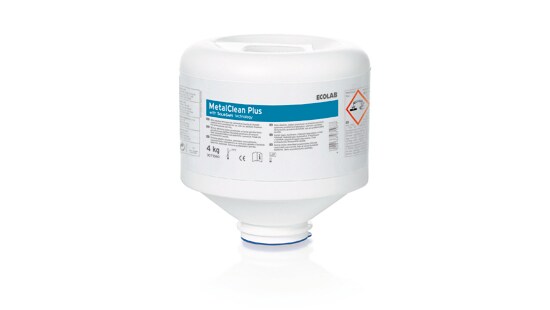 MetalClean Plus
Concentrated and easy-to-use product for instrument cleaning. Provided in the concentrated capsule together with the SolidSafe technology, delivers high performance and low foaming. The product is not only reliable, but also environmentally responsible.
Product Details
MetalClean Plus provides mild alkaline-based highly concentrated solid cleaning agent for DI to soft water qualities.
| Features | Benefits |
| --- | --- |
| Unique blend of active alkaline agents and low foaming formula | Excellent cleaning performance |
| Can be used on anodized aluminum and titanium | Good material compatibility for maximum protection to your valuable instrumentation during reprocessing |
| Highly concentrated chemistry, in an easy to handle 4 kg capsule – the equivalent of 80 l of concentrated liquid | Less weight, less space for storage, less waste |
| Used in a special Solid system. The capsule completely rinsed when empty | No risk of leakage and spilling, less burden to the environment |
APPLICATION AREA AND USAGE
MetalClean Plus is suitable for instruments and utensils made of stainless steel, instrument steel, optics, conventional plastics and materials of anesthesia equipment.

INSTRUCTIONS FOR USE
Recommendations:
3-10ml/L of the solution produced by the SolidSafe Dispenser is automatically drawn via the alkaline resistant dosing pumps of the washer disinfector. Select program according to washer manufacturer's instructions.
INGREDIENTS
MetalClean Plus: Sodium hydroxide, complexing agents and auxiliary substances.
Related Offerings
Please see below related offerings: