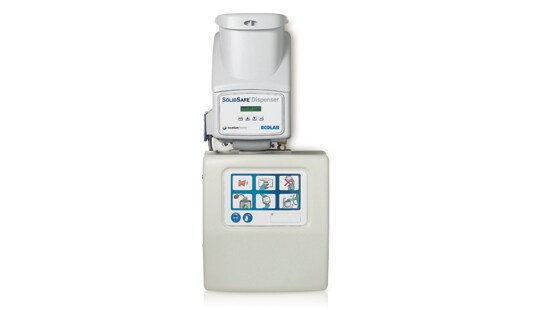 SolidSafe™ Dispenser
Fully automated dispensing unit for solid cleaning agents and neutralizer. Part of the unique SolidSafe System that revolutionizes the automated cleaning of surgical instruments. The SolidSafe Dispenser is a state-of-the-art, small, easy to use dosing station. It produces a concentrate from highly concentrated Solid capsules.
It guarantees an uninterrupted delivery of the concentrate thanks to a built-in security system. It simplifies the work of the central sterilization staff.

EQUIPMENT DETAILS
Proven reliability - independently tested and validated as a medical device class I, with comprehensive reports on performance during programmed washes.
Easy to operate with features providing a high level of worker safety: optical control display to indicate operational issues; flow rate delimitation by flow regulating valves; external day tanks to provide continuous operation in case of the absence of product or water; water supply back flow protector (complies to DIN EN1717).
Innovative system - no risk of leaking or spilling; no need for the messy changing of dip tubes or suction lances; smaller space for storage; coded capsules for appropriate dispensers reducing the risk of using wrong chemistry
Environmentally responsible - the dispenser flushes out the SolidSafe capsule completely,  empty SolidSafe capsules can be put into regular waste.
The Dispenser is to be used with MetalClean, MetalClean Plus, AlkalineClean and NeutraPlus.
Proven accuracy of concentrated solution by external test company. Concentrated solution is controlled by conductivity and is validated yearly.
| Equipment Size | Part Number |
| --- | --- |
| SolidSafe Dispenser | 10200284 |
Equipment Details
The SolidSafe Dispenser is a microprocessor-controlled dispenser that transfers solids into fluid process chemicals through a rinse process with water.
The rinsing process is monitored continuously by means of a contact-less conductivity measuring probe based on inductive measurement technique, thus guaranteeing the highest dosing accuracy.
| Our performance | Your advantage |
| --- | --- |
| FMEA tested dispenser (Failure possibility and effect analysis) | High operating and use safety |
| Closed dispensing system | No contact with the fluid media, canister and suction lance change no longer required |
| Innovative and compact design | Space-saving and flexible installation |
| Integrated vacancy detection and daily stock container | Secure product supply |
| Complete emptying of the solid capsules | No remainder of the chemical residue, simple disposal of empty capsules |
Application Areas
Fully automated dispenser for solution and application of process chemicals in solid form for preparing medical devices in cleaning and disinfection machines (RDG/ Large space - RDG/ Timing belt systems).
Installation, maintenance and repair service is ensured by trained Ecolab Service engineers.
Usage
For dosing of process chemicals in solid form. for preparation of medical devices such as surgical instruments, MIC instruments, plastic materials and materials from Anesthesia, Gynecology, Urology, Dental etc. in automatic cleaning and disinfection machines.
The SolidSafe Dispenser can be used for dosing of the products MetalClean and MetalClean Plus.
The program selection in RDG is done according to the manufacturer's instructions. Please also follow the information provided by the instrument manufacturer.
Technical Description
The SolidSafe Dispenser is "Made in Germany" and bears the CE symbol as an approved medical device.
The SolidSafe Dispenser is equipped with the following functions, which guarantee a maximum of user safety:
Optical and acoustic control indicators such as: Product empty report or missing water flow
Concentration check by means of throughput electrode
Integrated daily stock tank for continuous product supply
Water-Safety Device according to DIN EN 1717
Installation instructions
Installation is carried out by qualified Ecolab Service engineers.
The following installation requirements should be noted:
Power supply:

Supply voltage: 230VAC/50-60 Hz
Power consumption max. 30 W

Water supply:

Water connection: G1 / 2
Water temperature: max. 30°C cold water
Water pressure: min. 0.2Mpa (2.0bar) dyn. max. 0.6Mpa (6.0bar) dyn.
Recommended water quality for the supply to SolidSafe dispensers: Fully demineralized water (DM Water).
Dimensions
Size (without assembly frame): 850 x 400 x 320 mm (H x B x T)
Weight: 17.5kg
Various assembly options are possible e.g. wall mounting or using a flexible dispenser frame (Rack)