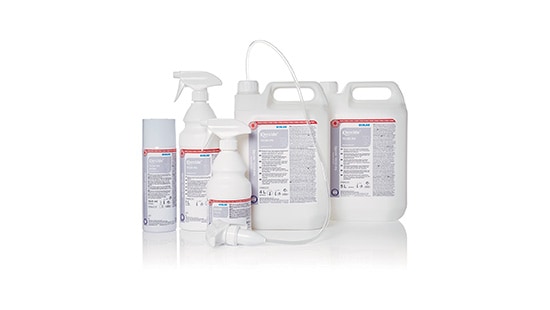 Klercide™ 70/30 IPA - Blended with WFI
Ecolab's Klercide™ 70/30 IPA Blended with Water for Injection (WFI) is 70% isopropyl alcohol blended with WFI with endotoxin level guaranteed to be less than 0.25EU/ml. The alcohol blend is 0.2 micron filtered and triple bagged in a Grade C / ISO 5 cleanroom before being terminally sterilized by gamma irradiation.


Klercide™ 70/30 IPA - Blended with WFI Features and Benefits
Use: Daily disinfection for large and small surfaces, including but not limited to product contact areas, transfer disinfection and removal of residues
Efficacy: Bactericidal, Yeasticidal, Fungicidal and Virucidal
Residues: Low residue profile product. Endotoxin levels guaranteed to be <0.25eu>
Format: The trigger spray format incorporates the patented SteriShield™ Delivery System (SDS) which ensures the sterility of the contents is preserved throughout use. Available in a range of formats including trigger sprays, capped containers, aerosols* and impregnated pouch wipes. All formats are triple bagged.
Compatibility: Compatible with an extensive range of cleanroom surfaces and the Klercide™ and Klerwipe™ range.
*Aerosols not available in North America


Use biocides safely. Always read the label and product information before use.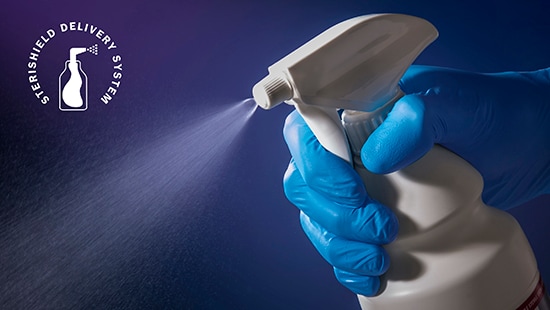 Sterishield™ Delivery system
Related Cleanroom Solutions
Learn more about how Ecolab's Cleanroom solutions can help your facility produce safe, compliant products that exceed patient standards, measurably improve operational efficiency and help achieve sustainability goals.
No related solution pages were found.